Audi Service
Independent Servicing & Repair Centre in London
London Audi Service & Repair
Audi Tuning Specialists
Servicing, MOT and maintenance for your Audi
Audi A3, A4, A5, A6, A8, TT, Q5, Q7 and RS Models
Up to 50% less than main dealer prices
Audi MOT centre
Only £39.95
Cheap Audi MOTs in London
While you wait MOT service
MOTs for all models of Audi

FREE

MOT re-test
Award Winning Audi Specialists
Trusted & Reliable Audi Service & Repair in London
Russell Automotive Centre is an award-winning, independent garage in North West London specialising in Audi service and repair. We can repair and service your Audi to high standards, and at a reasonable cost, right here at our premises in Kingsbury, London. We have held the title of Best Independent Service Provider at the annual Audi Driver International awards every year since 2008. We have also won Independent Garage of the Year at the 2014 Motor Trader Awards - a national title of which we are very proud.
We would like you to choose Russell Automotive Centre next time your Audi needs a service or repair. Here's why...
We Are Audi Specialists
We understand all Audi models. Our founder, Steve Russell, is an accredited Audi Master Technician. This means that, as well as being qualified and experienced in working on Audi vehicles, Steve is a true expert in all things to do with vehicle. In fact, he was one of the first Audi technicians in the UK to be accredited as a Master Technician.
Any member of Steve's team who works on your vehicle will be qualified and experienced, too, and have years of experience of working in an Audi main dealer. That means our technicians know how to recognise and deal with the common – and the not-so-common – faults in Audis.
We work to high standards. We will only use genuine Audi parts on your vehicle. We follow the manufacturer's guidelines for each activity we undertake. We have invested in the specialist equipment that enables us to complete all the work on your vehicle, here in Kingsbury, that you would expect, if you took your vehicle to an Audi main dealer.
We Offer Excellent Service
At Russell Automotive Centre we know how much inconvenience, anxiety and stress drivers experience when their vehicles are off the road. We want to ensure that we minimise the disruption to your life that you experience when your car is being serviced or repaired. That is why customer service is so important to us.
Of course, we will work speedily and efficiently on your vehicle. We will undertake services and repairs to high standards. We will offer you a free courtesy car* to use while your Audi is with us. We also offer free local collection and delivery from your home or workplace.
Your repair will not be delayed until you can find time to visit us during our opening hours. You can deliver your keys to us at any time. We have an out of hours drop-off facility you can use, if your vehicle is towed to us, for example. Please ask us in advance for the position of our drop-off facility.
When you visit us here at Russell Automotive Centre, you can use your waiting time effectively in our waiting lounge where we have free wi-fi, refreshments, comfortable seating and a kiddies' corner.
Repair and Service Costs for your Audi
We know you want to prolong the life of your car. That is why we always use the parts recommended by Audi for the work we undertake, and employ technicians who are qualified and experienced in working on the makes of car we specialise in.
Even though we work to high standards, you will find that our labour costs are up to 50% lower than the prices you might expect to pay, if you took your car to an Audi main dealer.
Audi Servicing Costs
| | |
| --- | --- |
| Annual Audi Servicing* | Long Life Audi Servicing* |
| Minor inspection Service | Minor inspection Service |
| From £135 | From £165 |
*Up to 2.0 litre engines only
Long Life Service
Do you drive more than 10,000 miles a year? We can reset your Audi's Service Light to the 'Long Life' setting, this is recommended for drivers that would do over 10,000 miles a year – this means that it's possible to get up to 19,000 miles before your vehicle needs servicing again. This is a factory setting on the vehicle as the car is sophisticated enough to read the quality of the oil and tell you when it's time to change. The benefit? Longer intervals between servicing means less servicing costs for you and no harm to your vehicle.
Fixed Servicing
Do you drive less than 10,000 miles a year? If so, we recommend reseting your service light to 'Fixed'– this means your car will require servicing every 12 months or at 10,000 miles, whichever comes sooner.
We can keep our prices down because we are an independent Audi specialist garage in North London.
You want the best for your Audi and we would like you to choose us because that is what we want too.
Talk to us about your next Audi service or Audi repair on: 0208 2000 995.
*Please be aware that if you would like to make use of the courtesy car, you will need to arrange your own fully comprehensive insurance prior to collection and for the duration of your use.
Thursday 18 November 2021
Award winning service continues at Russell Automotive Centre
Friday 26 March 2021
How can you best tune a Golf GTI or increase the HP of your VW Golf R?
Book
From as little as £135 for Audi Servicing book below or call our team on 0208 2000 995.
John P, Audi Repair Customer, North London.

From the outset when our Audi TT broke down I was treated well, kept up-to-date and was charged a fair price. The car arrived back in showroom condition. Service like it used to be. I cannot recommend highly enough. Thank you.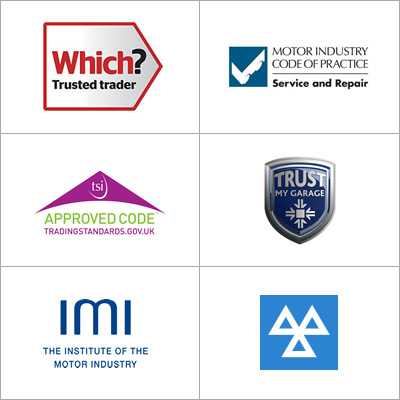 Your local Audi, VW, Seat, Skoda & Bentley garage in North London