The MOT Test II: Common Faults and How To Avoid Them
Tuesday 18 September, 2012
Recently we blogged about why you need an MOT test and promised to tell you more about common MOT faults and how you can deal with them. So here we are.
There are always going to be issues you can't resolve yourself, but some are easy to spot – and a bit of legwork in advance could make the difference between a pass or a fail leading to a garage bill. So here are some quick checks you can do at home to help identify potential MOT trouble spots.
Tyres
Cars tyres are often the reason for an MOT fail. If you spot a bulge in the tyre wall, replace it as soon as possible or you may risk a blowout at speed. Also keep an eye out for any large cracks as these are a sign of a tired tyre.
Before the MOT test, take the time to measure the depth of the tread on your tyres.
Any tread less than 1.6mm deep is judged illegal and will lead to a fail.
Brake Pads
These need to be a minimum of 1.5mm thick or they won't be passed. If you don't want to get your hands dirty your mechanic can alert you if they're getting thin and need replacing. If you hear a grinding or squealing noise when you brake, it's a strong indicator that they're wearing out so get them checked immediately.
Windscreen Cracks or Chips
If your car has one of these in your line of sight – which is pretty much within the area covered by your windscreen wiper – it'll fail the MOT. Cracks of less than 40mm in size are okay as long as they're not within your line of sight.
Wiper Blades
While we're talking about the windscreen, you should replace any split wiper blades as these won't make it through the MOT test.
Lights
Check all the light bulbs are working – get a friend to help you with this! And look out for any cracked lenses which may need to be replaced.
Some cars fail because the headlight beam pattern isn't properly aligned. This can be because a bulb hasn't been changed correctly, or a minor accident or bump in the road has thrown the pattern off. It's not that easy to test yourself but if you shine them against a wall you can get some idea of whether they're level or not.
Horn
Check the horn makes the sound it should. A weak beep or silence could mean you need to replace the fuse or get a new horn. Either way, a horn that doesn't honk doesn't pass.
Washer Fluid
Believe it or not, cars do fail due to low or empty washer fluid because, without it, the MOT tester can't be sure if the pump isn't working because of a blockage or problem. So make sure you fill it up before you go – just imagine how annoyed you'd be to fail on that!
Rear View Obstruction
It's time to ditch the furry dice. Much as you might like knick-knacks, hanging anything from your rear-view mirror could lead to a fail on the grounds that it obstructs your field of vision. So say cheerio to stickers, sun strips and out-of-date Magic Trees or you might say hello to an MOT fail.
I hope these pointers shed a little more light on the world of the MOT test and you find them worth bearing in mind. If you look after your car and have it serviced regularly there hopefully won't be any wallet-emptying shocks in store next time the test rolls around.
Book
Book in your Audi, VW, Bentley, SEAT or Skoda using our form or call our team on 0208 2000 995.
Fleet Manager, Fleet Van Servicing Centre North London.

Whilst travelling to you you ordered the part, and an hour after my initial call my van was on the lift and a new starter-motor was being fitted. An hour later I was on my way back to work. I cannot thank you enough for your help. Not only did you go out of your way to keep us working, you did it at a very sensible price.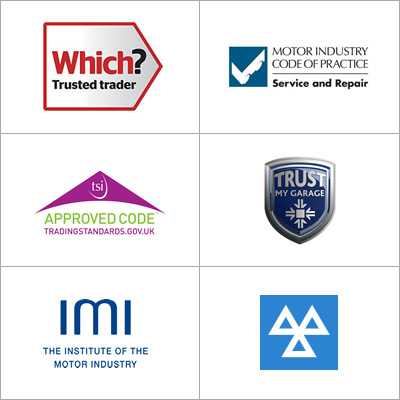 Your local Audi, VW, Seat, Skoda & Bentley garage in North London